April 8, 2022
WORLD #QURANHOUR 2022
Islamic Tourism Centre, in partnership with Warisan Ummah Ikhlas Foundation, is pleased to present this year's World #QuranHour on 26 April 2022, coinciding with 24 Ramadan 1443H.
This year's online event focuses on the verses from Al-Sajdah, and how faith, prostration and humility are key towards building a compassionate ummah and a prosperous nation.
On that day, let's set aside an hour to read the Quran together and appreciate the key learnings within the holy book. You can join from anywhere around the world!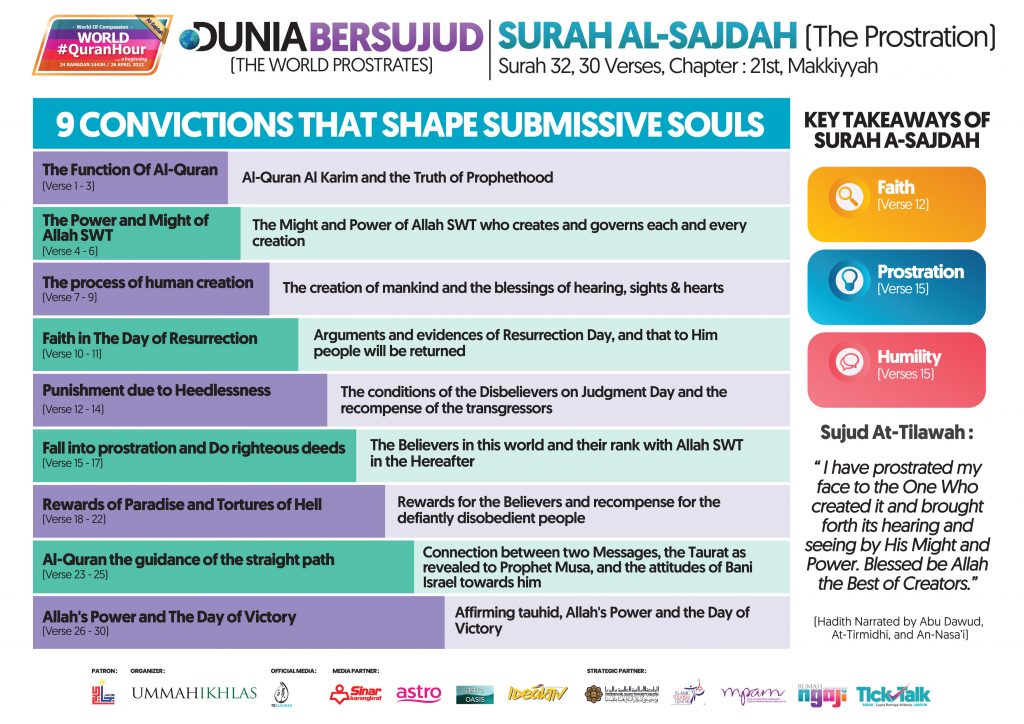 TAKE PART IN 4 EASY STEPS!
1. Register
Use this link to register.
2. Plan
Choose a suitable location to organise your own World #QuranHour session e.g. mosque, office, residential house, hall, or open space e.g. field.
3. Read
Recite the Al-Sajdah verses together at 12 pm on 26 April 2022/24 Ramadan 1443H, accompanied by our Qari on World #Quran Hour FB Page or TV Al-Hijrah FB Page
4. Share 
Take pictures and videos of your session and post them on social media using #QuranHour and  also send here. 
Save the date and join us to recite the Holy Quran from wherever you are!
Date: 26 April 2022 / 24 Ramadan 1443H
Time: 12 pm – 1 pm
For more information, visit the World #QuranHour FB Page.