September 11, 2023
PENYERTAAN PUSAT PELANCONGAN ISLAM (ITC) DI MIHAS 2023 TAWAR PELANCONGAN MESRA MUSLIM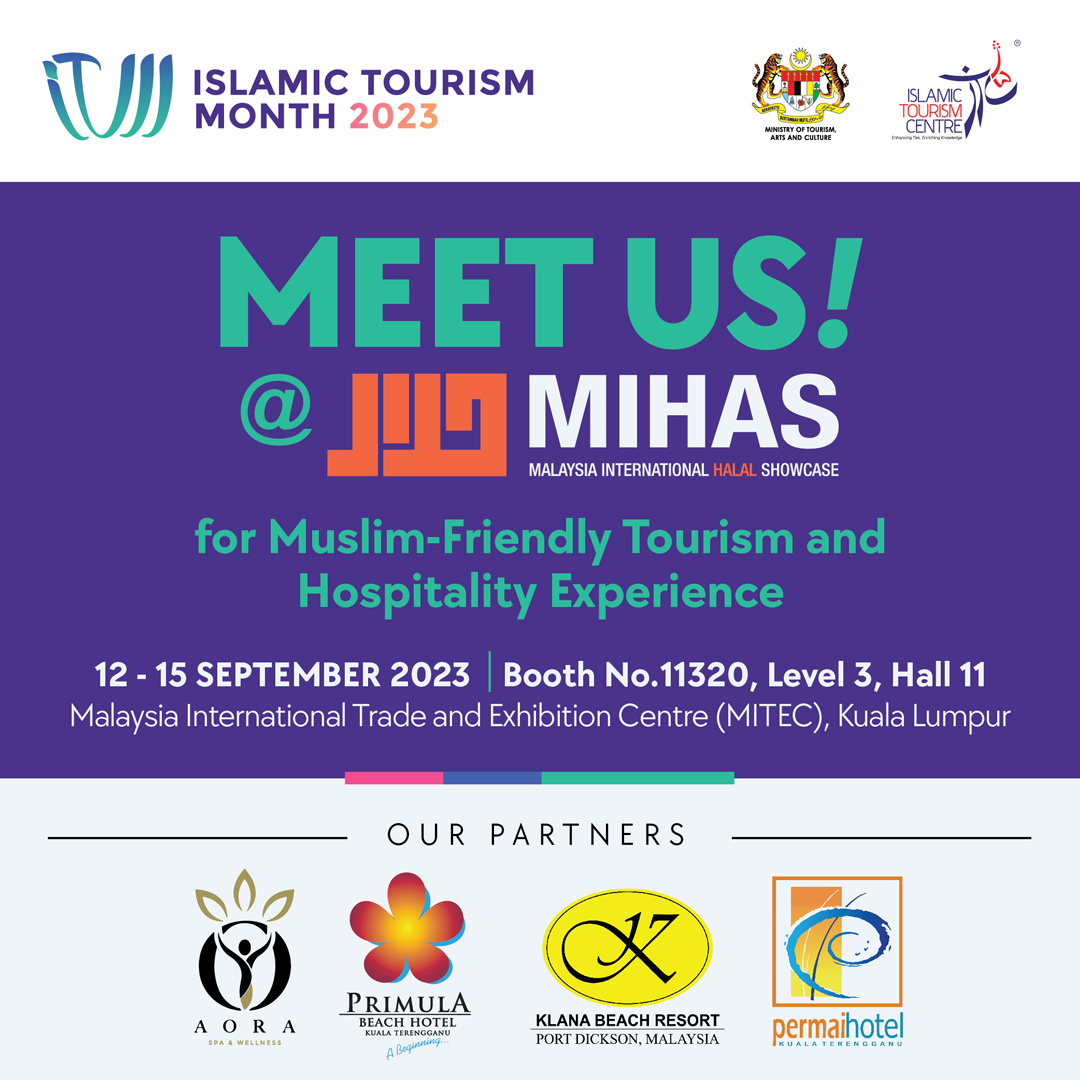 KUALA LUMPUR, 11 SEPTEMBER 2023: Komited untuk terus mempamerkan tawaran-tawaran menarik yang disediakan oleh industri pelancongan mesra Muslim di Malaysia, Pusat Pelancongan Islam (ITC) – sebuah agensi di bawah bidang kuasa Kementerian Pelancongan, Kesenian dan Kebudayaan (MOTAC) akan menyertai Pameran Halal Antarabangsa Malaysia (MIHAS 2023) dari 12 hingga 15 September (Nombor Reruai 11320, Aras 3, Dewan 11, Dewan Perdagangan dan Pameran Antarabangsa Malaysia (MITEC).
Rakan strategik ITC yang bakal menyertai pameran antarabangsa ini ialah Aora Spa and Wellness Jitra, Primula Beach Hotel Kuala Terengganu, Permai Hotel Kuala Terengganu dan Klana Beach Resort Port Dickson.
ITC berharap penyertaan agensi ini akan mengumpulkan para profesional, pegawai kerajaan, dan pemain utama industri dari seluruh dunia untuk meneroka pelbagai tawaran industri pelancongan Malaysia yang pelbagai dan berpotensi memenuhi permintaan semua pelancong, tempatan mahupun luar negara.
ITC juga akan menganjurkan satu sesi rangkaian perniagaan eksklusif – Let's Sembang Together on MFAR@MIHAS pada 13 September di Sudut MIHAS, Aras 1, Dewan 2, MITEC dari jam 10 pagi hingga 1 petang. Para pengunjung ke MIHAS dialu-alukan untuk menyertai program anjuran ITC ini untuk mengetahui potensi pasaran pelancong Muslim dan mendapat informasi lebih lanjut tentang program Pelancongan dan Hospitaliti Mesra Muslim ITC serta Pengiktirafan (MFAR) daripada Fitra Mohd. Ali, Pengurus Pembangunan Industri ITC.
Penolong Pengarah Hubungan Industi, Jabatan Pengurusan Halal daripada Jabatan Agama Islam Selangor (JAIS) Ustaz Norakmal Mohamad juga akan turut hadir di sesi rangkaian perniagaan dan berkongsi tentang pensijilan Halal.
Berhubung penyertaan agensi dalam MIHAS 2023, Ketua Pengarah ITC, Nizran Noordin berkata "Kami sangat teruja untuk berkongsi pelbagai tawaran yang Malaysia sediakan untuk pelancong Muslim ke negara ini".
"Komitmen kami terhadap inklusiviti dan menyediakan pengalaman luar biasa kepada semua pengunjung, dan kami sangat bersemangat untuk menyambut pelancong Muslim dari seluruh dunia untuk meneroka keindahan dan budaya di Malaysia," kata Nizran.
Dalam suasana meraikan keistimewaan warisan seni bina Malaysia di sepanjang Bulan Pelancongan Islam 2023 (BPI 2023) yang baru dilancarkan, keterlibatan ITC dalam MIHAS 2023 bertujuan menonjolkan pelbagai produk dan perkhidmatan mesra Muslim Malaysia, memupuk kerjasama di kalangan pemegang kepentingan utama industri, dan mengukuhkan perkongsian strategik di kalangan pemain ekosistem pelancongan Islam melalui acara yang berlangsung selama sebulan ini.
Selain promosi khas untuk penginapan, pakej perjalanan, pengalaman spa dan kesejahteraan, makanan dan minuman, tawaran beli-belah dan runcit, serta acara, seminar, dan pameran, BPI 2023 juga diperkukuhkan dengan penggunaan teknologi QR untuk memberikan akses mudah dan segera kepada tawaran eksklusif oleh rakan-rakan ITC sepanjang bulan tersebut.
Terdapat juga Cabaran TikTok yang boleh disertai oleh orang ramai untuk memenangi hadiah istimewa yang ditaja oleh pelbagai rakan industri. Di antara hadiah utama adalah 30 kad prabayar yang dimuatkan dengan RM1,000 masing-masing oleh Mastercard."
#ITM2023 #IslamicTourismMonth #ExperienceITM2023 #myITM2023 #IslamicTourismCentre #MuslimFriendlyMalaysia #MalaysiaMesraMuslim
END
Mengenai Pusat Pelancongan Islam (Islamic Tourism Centre / ITC):
ITC ialah sebuah entiti di bawah Kementerian Pelancongan, Seni dan Budaya yang diberi mandat untuk membentuk segmen Pelancongan Islam untuk Malaysia. ITC mempromosikan Pelancongan Mesra Muslim (MFT) dengan menawarkan kajian pasaran, latihan dan khidmat rundingcara untuk pembangunan industri serta penarafan dan pertukaran maklumat mengenai perkhidmatan Pelancongan dan Hospitaliti Mesra Muslim (MFTH).
Malaysia telah menerima pengiktirafan sebagai negara utama dalam sektor MFTH di rantau ini oleh State of the Global Islamic Economy (SGIE) Report 2022. Malaysia turut mengekalkan kedudukannya sebagai destinasi Mesra Muslim utama dalam Mastercard-CrescentRating Global Muslim Travel Index (GMTI) 2023, posisi yang dipertahankan sejak indeks tersebut dilancarkan pada tahun 2015. Pada masa sama, Malaysia turut diiktiraf sebagai Destinasi Utama Mesra Muslim oleh Pertubuhan Kerjasama Islam (OIC) dan Destinasi Utama Mesra Wanita Muslim di Anugerah Pelancongan Halal (Halal in Travel Awards) 2023.
Selain itu, ITC turut menerima Anugerah Strategic Business Alliance di Anugerah The BrandLaureate World Halal Best Brand E-Branding 2021. Pengiktirafan ini diberi untuk mengangkat usaha berterusan ITC dalam merekabentuk strategi baru untuk memenuhi keperluan norma baharu perniagaan dalam memastikan kesinambungan dan kemampanan industri dan kini mandat diberi untuk membina dan mengembangkan segmen pelancongan Islam di Malaysia.
Pengiktirafan ini menjadi motivasi kepada ITC untuk terus memperkukuhkan usaha mereka untuk menggerakkan dan menjadi institusi terulung di Malaysia dalam merancakkan sektor MFTH.
Pertanyaan dan maklumat lanjut, sila hubungi wakil media kami:
Ayu Nordin : +6019 374 6798
Shamsul Bahrin : +6012 347 024
Email : pr.pinkandgrey@gmail.com 
Ikuti ITM di platform media sosial berikut: 
Facebook : IslamicTourismMonth
Instagram : itm_itc
TikTok : itc_my