November 2, 2023
MICA MENGAMBIL BAHAGIAN DI DALAM KURSUS LATIHAN PELANCONGAN DAN HOSPITALITI MESRA-MUSLIM (MUSLIM-FRIENDLY TOURISM AND HOSPITALITY – MFTH)
KUALA LUMPUR, 1 NOVEMBER 2023: Islamic Tourism Centre (ITC) telah menganjurkan "Kursus Latihan Pelancongan dan Hospitaliti Mesra-Muslim (Muslim-Friendly Tourism and Hospitality – MFTH)" untuk ahli Malaysian Inbound China Association (MICA) di Royale Chulan Kuala Lumpur dari 1 hingga 3 November 2023.
Inisiatif ini merupakan susulan daripada misi jualan yang diadakan dengan jayanya di China pada bulan September yang lalu, anjuran Tourism Malaysia dan diketuai oleh YB Khairul Firdaus Akbar Khan, Timbalan Menteri, Kementerian Pelancongan, Seni dan Budaya (MOTAC), di mana potensi pasaran pelancong Muslim telah diperhatikan.
Seramai 25 ahli MICA telah mendaftar untuk program latihan ini dengan tujuan untuk meningkatkan pemahaman mereka mengenai pasaran pelancong Muslim dan memanfaatkan peluang di China, di mana jumlah penduduk Muslim dianggarkan seramai 30 juta orang.
Sebelum pandemik pada 2019, Malaysia telah berjaya menarik 5.3 juta pelancong Muslim yang menyumbangkan sebanyak RM16.7 bilion kepada ekonomi negara. Daripada jumlah tersebut, sebanyak 56,057 merupakan pelancong Muslim dari China yang menyumbangkan sebanyak RM275.9 juta kepada pendapatan pelancongan.
YB Khairul Firdaus berkata: "Saya yakin kita boleh menghasilkan pencapaian yang lebih cemerlang, terutamanya dengan ITC sebagai pemacu usaha untuk memperkukuhkan ekosistem MFTH, JAKIM dalam memberikan jaminan tentang makanan Halal, Tourism Malaysia dalam meningkatkan usaha promosi, dan penggiat industri pelancongan seperti MICA dalam memenuhi permintaan produk dan perkhidmatan yang bersesuaian."
Malaysia, yang menduduki tangga teratas dalam Indeks Pelancongan Muslim Global 2023 keluaran Mastercard-CrescentRating (Global Muslim Travel Index – GMTI) selama lapan tahun berturut-turut, bersedia sebagai destinasi yang memenuhi semua keperluan pasaran pelancong Muslim di China.
"Selain itu, peluang yang kami saksikan dalam pasaran pelancong Muslim China adalah juga sejajar dengan matlamat untuk memastikan masa depan yang mampan bagi industri pelancongan negara," tambah YB Khairul Firdaus.
Nizran Noordin, Ketua Pengarah ITC berkata: "Kami gembira melihat MICA mengorak langkah untuk mendalami pemahaman mereka tentang MFTH. Walaupun unsur Halal dikira antara faktor yang mempengaruhi pengalaman pelancong Muslim, namun latihan ini juga memberikan pandangan mengenai peranan komunikasi, amalan mampan, serta standard dan pensijilan dalam MFTH. ITC berharap untuk menawarkan peluang latihan yang serupa kepada pihak lain yang berminat."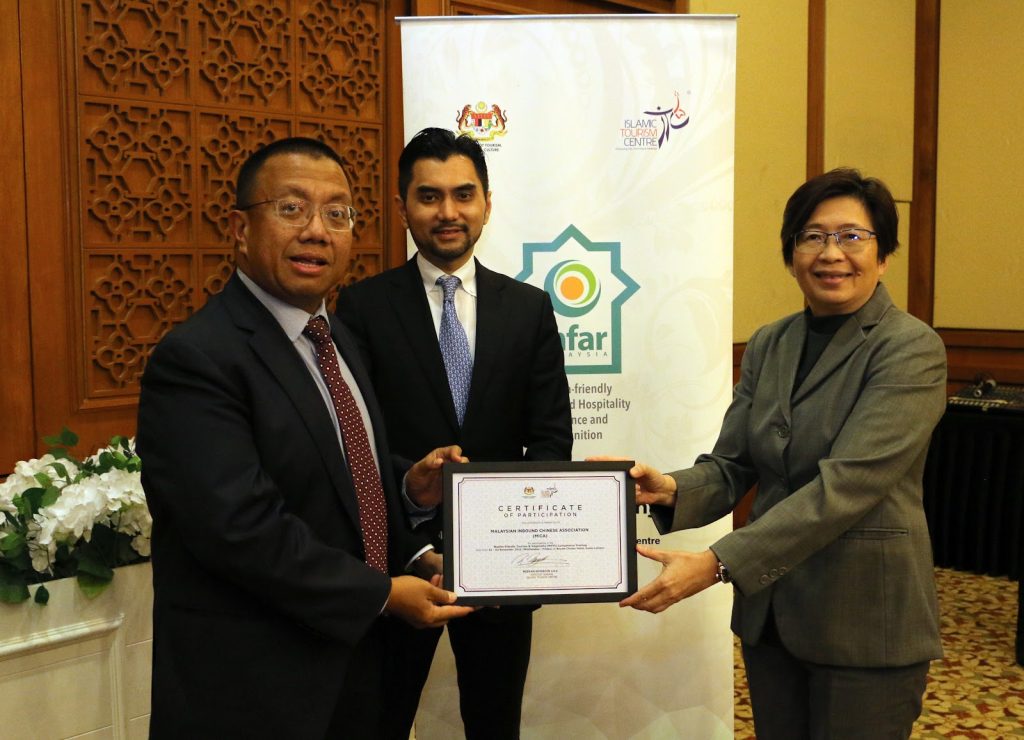 Program latihan ini meliputi kuliah dan taklimat mengenai potensi pasaran pelancong Muslim, MFTH, serta standard industri dan panduan yang ditetapkan oleh ITC. Tambahan pula, lawatan teknikal ke kawasan tarikan pelancong dan hotel yang mendapat pengiktirafan MFAR (Muslim-Friendly Tourism and Hospitality Assurance and Recognition) memberikan pemahaman praktikal tentang bagaimana konsep-konsep ini diamalkan. Para peserta juga terlibat dalam pembentangan dan penilaian kerja berkumpulan untuk pengalaman pembelajaran yang menyeluruh pada hari terakhir program latihan.
TAMAT
Mengenai Islamic Tourism Centre (ITC):
ITC merupakan sebuah entiti di bawah Kementerian Pelancongan, Seni dan Budaya yang diberi mandat untuk membentuk segmen Pelancongan Islam untuk Malaysia. ITC mempromosikan Pelancongan Mesra Muslim (MFT) dengan menawarkan kajian pasaran, latihan dan khidmat rundingcara untuk pembangunan industri serta penarafan dan pertukaran maklumat mengenai perkhidmatan Pelancongan dan Hospitaliti Mesra Muslim.
Malaysia telah mendapat pengiktirafan sebagai negara utama dalam sektor MFTH di rantau ini oleh State of the Global Islamic Economy (SGIE) Report 2022. Malaysia turut mengekalkan kedudukannya sebagai destinasi Mesra Muslim utama dalam Mastercard-CrescentRating Global Muslim Travel Index (GMTI) 2023, posisi yang dipertahankan sejak indeks tersebut dilancarkan pada tahun 2015. Pada masa sama, Malaysia turut diiktiraf sebagai Destinasi Utama Mesra Muslim (kategori negara OIC) dan Destinasi Utama Mesra Wanita Muslim di Anugerah Pelancongan Halal (Halal in Travel Awards) 2023.
Selain itu, ITC turut menerima Anugerah Strategic Business Alliance di Anugerah The BrandLaureate World Halal Best Brand E-Branding 2021. Pengiktirafan ini diberi untuk mengangkat usaha berterusan ITC dalam merekabentuk strategi baru untuk memenuhi keperluan norma baharu perniagaan dalam memastikan kesinambungan dan kemampanan industri dan kini mandat diberi untuk membina dan mengembangkan segmen pelancongan Islam di Malaysia.
Pengiktirafan ini menjadi motivasi kepada ITC untuk terus memperkukuhkan usaha mereka untuk menggerakkan dan menjadi institusi terulung di Malaysia dalam merancakkan sektor MFTH.
Untuk maklumat lanjut, sila emel comms@itc.gov.my atau individu-individu berikut:
Anis Ramli, Unit Komunikasi Korporat, ITC di 012 321 9137
Nadhirah Aripin, Unit Komunikasi Korporat, ITC di 019 356 0530
Ainaa Izzati, Unit Komunikasi Korporat, ITC di 010 266 2535
Khairul Iman, Unit Komunikasi Korporat, ITC di 013 289 2609
Islamic Tourism Centre,
Tingkat 13, Kementerian Pelancongan, Seni dan Budaya Malaysia
No. 2 Tower 1, Jalan P5/6,
Precinct 5, 62200 Putrajaya, Malaysia
Tel: 03-8891 7177 or via email itc@itc.gov.my
Ikuti ITC di platform berikut:
Facebook: Islamic Tourism Centre
X: @itc_my
Instagram: @itc_my
YouTube: Islamic Tourism Centre