August 20, 2021
MALAYSIA #QURANHOUR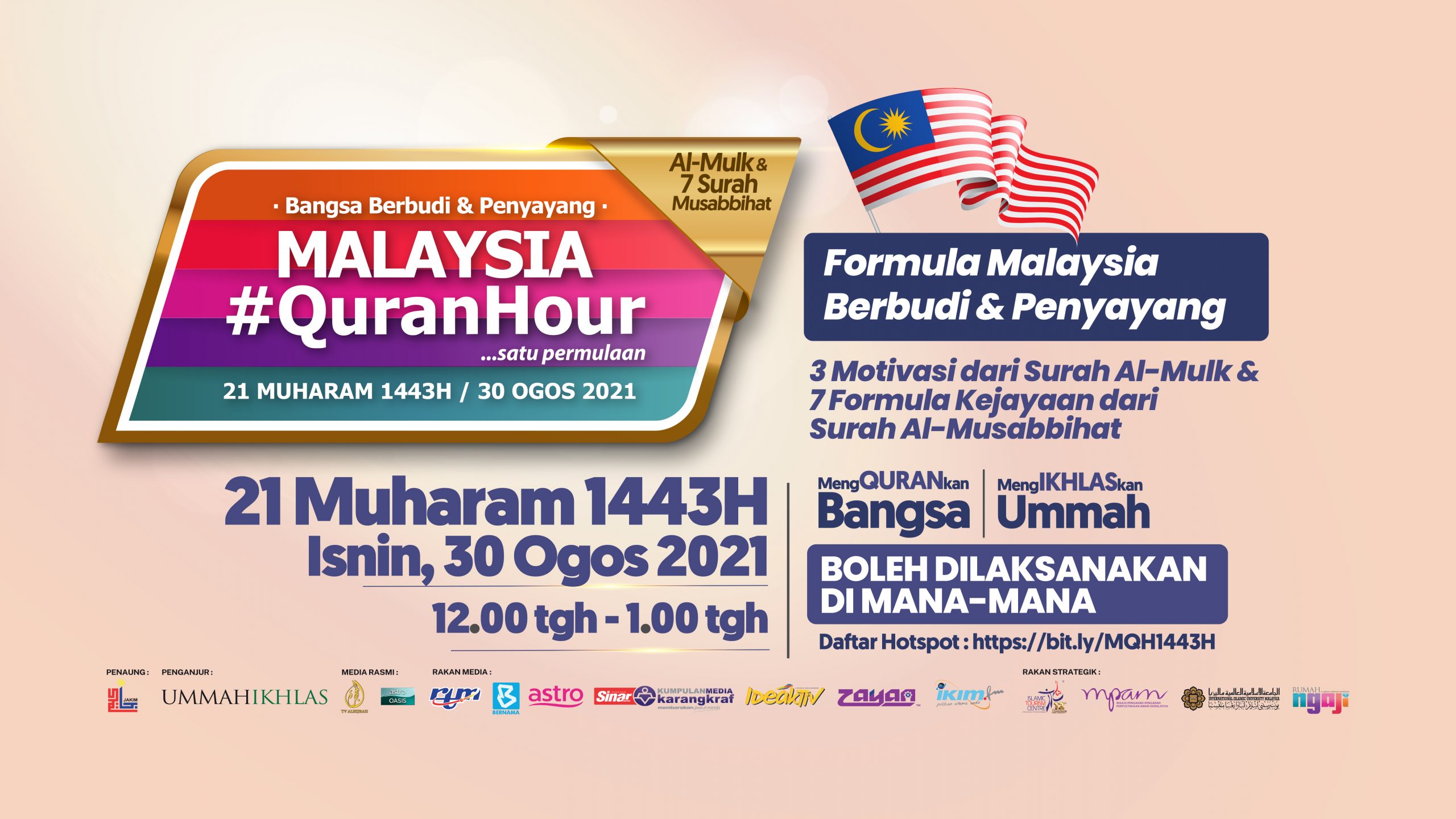 Islamic Tourism Centre, in collaboration with Warisan Ummah Ikhlas Foundation, is pleased to present this year's Malaysia #QuranHour in conjunction with the 64th National Day of Malaysia. 
This year, the theme is "Formula Malaysia Berbudi & Penyayang", (loosely translated, "Formula for a Kind and Compassionate Malaysia") and highlights the verses from Al-Mulk and Al-Musabbihat chapters of the Holy Quran, as well as the key learnings — or motivations and success formulas — therein.
The Malaysia #QuranHour is a one-hour interactive session with the Al Quran, and aims to reveal the precious gems in Surah Al-Mulk and Surah Al-Musabbihat, which can bring a solution and become a source of healing to Malaysia in facing current challenges. 
The Malaysia #QuranHour will be broadcast live on TV-Alhijrah / RTM / Astro Oasis / Bernama TV / IKIM / Sinar / Quran Hour and Nu Ideaktiv platforms with live readings by a Qari, followed by a Tadabbur session to reflect deeply upon the meanings of the verses chosen for this year's programme.
Muslims everywhere are encouraged to unite their voices in reading the verses together in solidarity, and create a powerful wave of prayer to rise above these trials and tribulations.
Save the date and join us to recite the Holy Quran.
Date: 30 August 2021 / 21 Muharram 1443H
Time: 12.00 pm – 1.00 pm