April 21, 2021
ITC SEED Programme: From Sahur To Iftar Health Journey: Eating Well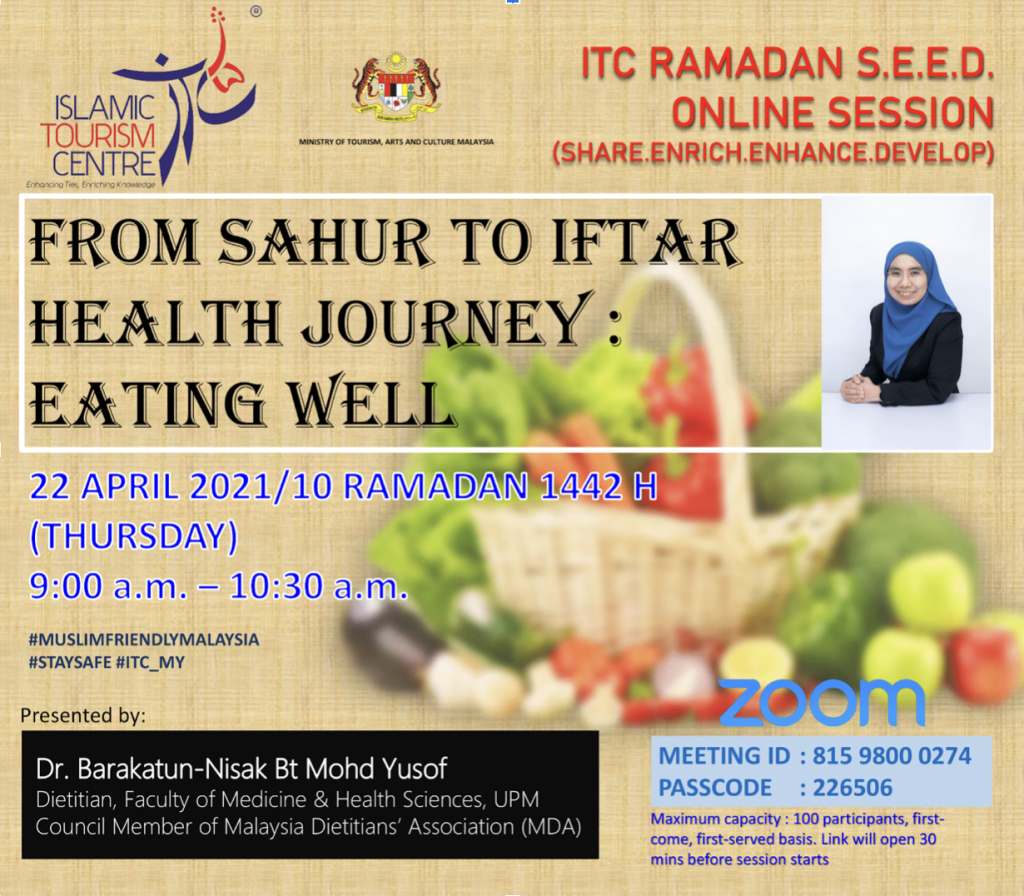 In this first Ramadan Edition of the ITC SEED Online Session, we are inviting a dietitian from University Putra Malaysia (UPM) to share some tips and advice about healthy diet and nutrition throughout the fasting month.
It is really important to maintain a balanced and healthy lifestyle to stay active and energetic during the fasting month of Ramadan. To do this we need to be wise in selecting the types and quantity of food to eat.
Come and join us to learn more about the tips to keep eating well.
Speaker: Prof. Dr. Barakatun-Nisak Mohd Yusof
Dietitian, Faculty of Medicine & Health Sciences, UPM
Council Member, Malaysia Dietitians' Association (MDA)
Date: 22 April 2021
Time: 9 am
Platform: Zoom
Link:  https://us02web.zoom.us/meeting/register/tZUofuGorjsoHdD15LELClzYuURXANwzBGoo
Meeting ID: 815 9800 0274
---
The ITC SEED programme is a special series of talks organised by ITC with our partners to share and deliver the latest information on a variety of contemporary topics from an Islamic perspective.
SEED is an abbreviation for share, enrich, enhance, and develop, which holistically describes the purpose and objectives of organising these sessions.
Topics we've covered in the past through this programme include: nutrition, health, spirituality, and current issues.
Conducted online using the Zoom platform, the sessions are easily accessible, with topics presented by experienced and knowledgeable experts in their fields, in a fun and educational way.
We invite everyone to join us for this and future SEED programmes!