April 11, 2023
ITC LAUNCHES STRATEGY TO STRENGTHEN GOOD GOVERNANCE AND UPHOLD INTEGRITY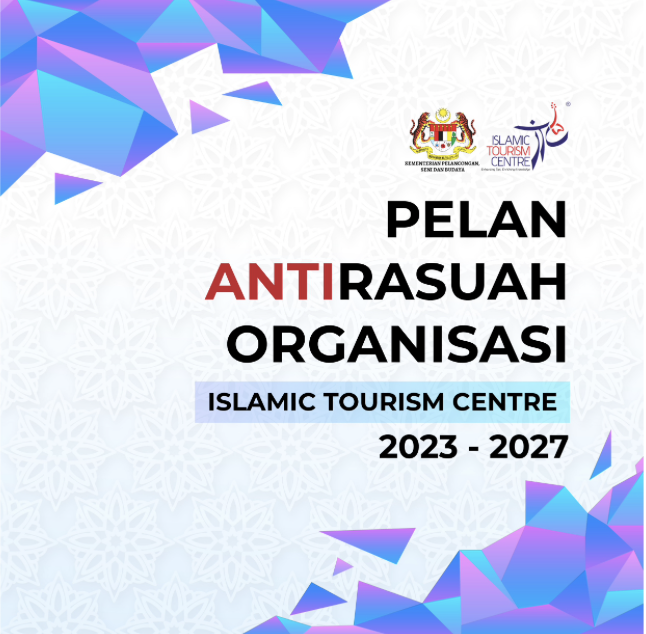 PUTRAJAYA, MALAYSIA, 07 APRIL 2023: Islamic Tourism Centre (ITC) today unveiled the ITC Organisational Anti-Corruption Plan 2023-2027 (ITC OACP) which has been developed in collaboration with the Malaysian Anti-Corruption Commission (MACC) and Malaysian Institute of Integrity (IIM).
The initiative reflects ITC's support for the Ministry of Tourism, Arts & Culture (MOTAC) goal to establish Malaysia and its ministry as an anti-corrupt organisation. It also stands for ITC's commitment to become a better organisation, one that cultivates good governance, promotes integrity and is corruption-free, in conformance with the Government's anti-corruption agenda through the National Anti-Corruption Plan (NACP).
On launching the ITC OACP 2023-2027, YBhg. Datuk Hajah Saraya Arbi, Secretary-General of the Ministry of Tourism, Arts and Culture, said, "The collective efforts of all organisations towards the sole goal of fighting corruption is to support the Malaysian Government's aspiration to ensure a fairer and more equitable management of the country, resulting in a prosperous nation and people."
She added: "As the leading agency for the development of Islamic Tourism in Malaysia, integrity, transparency and trust are among the core values ​​that ITC prioritises. This is important considering that ITC often deals with the public as well as foreign parties, promoting Malaysia's positive image on a global scale."
She further noted the initiative would increase integrity and efficiency and enhance the trust and confidence of clients for the services provided by ITC for Islamic Tourism.
The ITC OACP 2023–2027 features three strategic objectives and 44 initiatives that focus on ten high-impact initiatives in achieving the OACP ITC vision. To ensure the plan's success, all initiatives that have been identified will be reviewed and evaluated periodically.
ITC will further strengthen the company's administrative management and service delivery by pursuing the Anti-Bribery Management System (ABMS) ISO 37001 certification. Improvements in human resource management, administration, finance, comprehensive use of technology systems, and monitoring and strengthening of work processes will continue to be ITC's key priorities.
The launch, which took place at Movenpick Hotel and Convention Centre KLIA, was witnessed by the Malaysian Anti-Corruption Commission Director of Community Education Division, YBhg. Datuk Razim Mohd Noor, and the Malaysian Institute of Integrity Chief Executive Officer, YBhg. Datuk Wan Suraya Wan Mohd Radzi, along with MOTAC officers, and ITC Board of Trustees and employees.
END
Islamic Tourism Centre (ITC) is a Company Limited By Guarantee (CLBG) under the Ministry of Tourism, Arts and Culture, Malaysia tasked to develop the Islamic tourism segment for Malaysia. It advocates for Muslim-friendly tourism (MFT) by offering research and market intelligence, training, industry development and consultation, Muslim-friendly tourism and hospitality (MFTH) service standards and certification, and information exchange.
In 2021, ITC received two key awards, i.e. Strategic Business Alliance Award at The BrandLaureate World Halal Best Brand E-Branding Awards 2021, and Best Islamic Tourism Leadership Gold Award 2021 by Malaysia Tourism Council. These are recognition of ITC's efforts and endeavours in formulating new strategies to meet the new normal of the business environment to ensure business continuity and sustainability, notwithstanding its role to develop and grow the Islamic tourism segment in Malaysia.
In 2022, Malaysia was again named top country in the world in the MFT sector by the State of the Global Islamic Economy (SGIE) Report 2022 by DinarStandard in partnership with Salaam Standard and supported by Dubai Department of Economy and Tourism.
Malaysia also retained the top-ranked destination in the MasterCard-CrescentRating Global Muslim Travel Index (GMTI) 2022, a position it has defended since the launch of the Index in 2015.
These recognitions are an added motivation for ITC to continue to strengthen its efforts in being a prime mover and leading institution to ensure Malaysia is at the forefront of MFTH.
For further details, kindly contact:
Islamic Tourism Centre
(Ministry of Tourism, Arts and Culture Malaysia)
Level 13, No. 2 Tower 1, Jalan P5/6,
Precinct 5, 62200 Putrajaya, Malaysia
Tel: 03-8891 7177 or via email itc@itc.gov.my
For media-related matters, contact the Corporate Communications team:
Anis, Manager, +6012 321 9137, anis@itc.gov.my
Nadhirah, Sr. Executive, +6019 356 0530, nadhirah@itc.gov.my
Ainaa Izzati, Asst. Executive, +6010 266 2535, ainaa@itc.gov.my