May 26, 2023
ITC EMBARKS ON NATIONWIDE ISLAMIC TOURISM ROADSHOW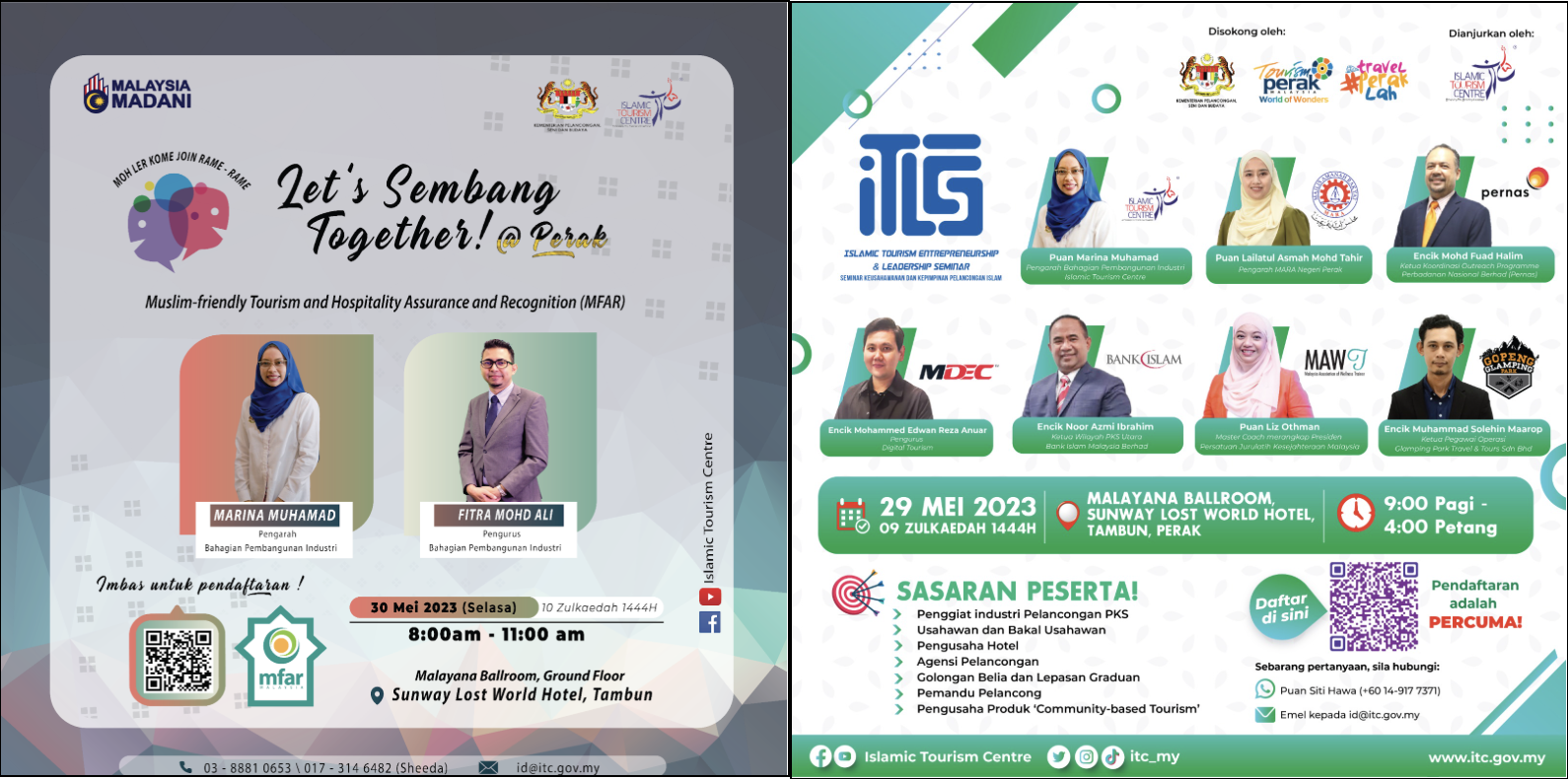 TOURISM BUSINESSES ENCOURAGED TO SHARPEN FOCUS ON THE DYNAMIC USD225 BILLION MUSLIM TOURIST MARKET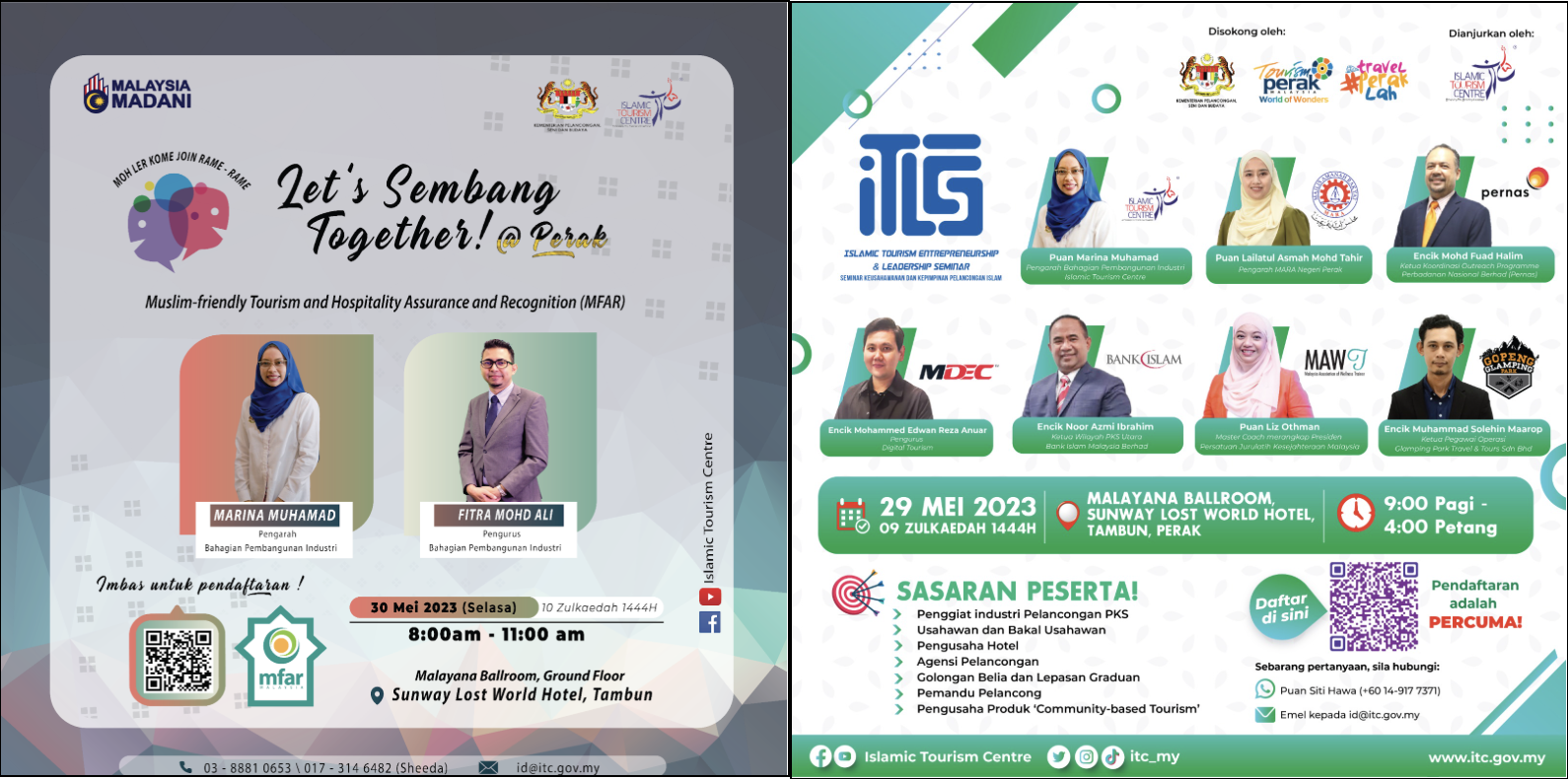 PUTRAJAYA, MALAYSIA, 24 MAY 2023:  Carrying the responsibility for developing Malaysia's Islamic Tourism industry, Islamic Tourism Centre (ITC) is kicking off a nationwide roadshow to engage with more tourism industry players in sharpening Malaysia's appeal as a Muslim-friendly tourism destination.
With Muslim travel gaining traction and estimated to be worth USD225 billion globally by 2028, ITC is keen for more tourism industry players to successfully develop, brand and market themselves within the Muslim-friendly Tourism and Hospitality (MFTH) ecosystem. Towards this end, ITC has initiated various training and recognition programmes, which include the Muslim-Friendly Tourism and Hospitality Assurance and Recognition (MFAR), the Islamic Tourism Entrepreneurship and Leadership Seminar (ITELS), Muslim-Friendly Tourist Guide (MFTG), Islamic Tourism Writers Workshop (ITWW), and Mosque Visit Guide (MOSVI) Training Programme.
Nur Alyssa Coraline Yussin, the Acting Director-General of ITC said: "Tourism industry players wanting to expand their reach and engage the interests of Muslim tourists are encouraged to meet us during this roadshow. We will be collaborating with the state tourism boards to deliver these programmes and help industry players chart their journey in Islamic Tourism."
ITC is making its way to several states in Malaysia to strengthen the local MFTH space. The roadshow programme for the respective states is as follows:
| | |
| --- | --- |
| State | Date (Tentative) |
| Perak | 29-30 May |
| Negeri Sembilan | 19-20 June |
| Pahang | 17-18 July |
| Kedah | 7-8 August |
| Kuala Lumpur and Selangor | 18-19 September |
| Penang | 10-11 October |
| Sarawak | 14-15 November |
Each two-day state stopover will see ITC highlighting two of its trademark events, the ITELS programme on the first day and MFAR on the second day. The programmes aim to connect with industry players and potential stakeholders–everyone from tourist guides to hoteliers, tourism product owners to wellness and spa operators–and share ideas and strategies to help businesses thrive in the lucrative Muslim tourist market.
"ITC is ready to support our partners and industry players and anyone interested in tapping into the Muslim tourist market. Besides these two signature programmes, we also provide research, training and capacity building, industry development and standards and recognition, information exchange, and consultation to prepare industry players for the next wave of tourism upswing," Nur Alyssa said.
The organisation of ITC's nationwide roadshow is supported by the state government and local tourism boards of the respective states.
"ITC is pleased to be working with the local authorities and state tourism boards in organising this roadshow. The collaboration ensures a wider reach and signals the state's huge support for its local businesses to adapt to current needs in tourism, including the demand for more Muslim-friendly products and services for travellers," said Nur Alyssa.
For more information on ITC's roadshow head over to our website at www.itc.gov.my or email us at id@itc.gov.my.
BACKGROUND INFO:
Muslim-Friendly Tourism and Hospitality Assurance and Recognition (MFAR) programme
The MFAR programme recognises businesses that have products and services that meet Muslim tourists' faith-based needs. The industry players can benefit tremendously from this recognition programme as it gives them the competitive edge and marketability to grow in the Muslim tourist market.
During ITC's nationwide roadshow, the MFAR programme will be introduced to industry players at the "Let's Sembang Together" session. It looks to attract the interest of new industry players in obtaining the MFAR recognition, which was developed to provide tourism businesses with specific guidelines on how to cater to the Muslim tourist market. 
Nur Alyssa said, "In recognising the potential of Islamic tourism, we improved and expanded our MFAR recognition programme. It is now more inclusive and encourages the recognition of more new sectors, namely tourist accommodations, spa and wellness, medical facilities, travel agencies, transportation hubs, shopping malls, amusement parks, rest service areas, tourism products and convention and trade centres." 
ITC's continuous efforts in developing the MFTH sector in Malaysia are on the right track. As of December 2022, a total of 52 hotels have been recognised under the MFAR programme with more to come.
Islamic Tourism Entrepreneurship and Leadership Seminar (ITELS)
ITC's focus on developing the Islamic Tourism industry sees the introduction of ITELS, which is to support entrepreneurs in exploring business opportunities within the Muslim tourist market. 
The number of global Muslim tourists and visits is expected to reach 230 million in 2028, with a total expenditure of USD225 billion, thus it is crucial to sharpen the tourism industry players' knowledge and skills in tapping into the robust Islamic Tourism marketplace.
Nur Alyssa said: "ITC hopes this initiative will support local tourism industry players to grow their businesses and capitalise on the flourishing potential of the Muslim tourist market. It is key that we equip them with research-backed information on Muslim-friendly tourism and hospitality and how to move their business forward."
The seminar will consist of various topics in line with Islamic Tourism, such as entrepreneur development, financial planning and management, and entrepreneur micro-funding opportunities. The seminar is followed by a networking session until the end of the day.
END
Islamic Tourism Centre (ITC) is a Company Limited By Guarantee (CLBG) under the Ministry of Tourism, Arts and Culture, Malaysia tasked to develop the Islamic tourism segment for Malaysia. It advocates for Muslim-friendly tourism (MFT) by offering research and market intelligence, training, industry development and consultation, Muslim-friendly tourism and hospitality (MFTH) service standards and recognition, and information exchange.
In 2021, ITC received two key awards, i.e. Strategic Business Alliance Award at The BrandLaureate World Halal Best Brand E-Branding Awards 2021, and Best Islamic Tourism Leadership Gold Award 2021 by Malaysia Tourism Council. These are recognition of ITC's efforts and endeavours in formulating new strategies to meet the new normal of the business environment to ensure business continuity and sustainability, notwithstanding its role in developing and growing the Islamic tourism segment in Malaysia.
In 2022, Malaysia was again named the top country in the world in the MFT sector by the State of the Global Islamic Economy (SGIE) Report 2022 by DinarStandard in partnership with Salaam Standard and supported by the Dubai Department of Economy and Tourism.
Malaysia also retained the top-ranked destination in the MasterCard-CrescentRating Global Muslim Travel Index (GMTI) 2022, a position it has defended since the launch of the Index in 2015.
These recognitions are an added motivation for ITC to continue strengthening its efforts to be a prime mover and leading institutions to ensure Malaysia is at the forefront of MFTH.
For further details, kindly contact:
Islamic Tourism Centre
(Ministry of Tourism, Arts and Culture Malaysia)
Level 13, No. 2 Tower 1, Jalan P5/6,
Precinct 5, 62200 Putrajaya, Malaysia
Tel: 03-8891 7177 or via email itc@itc.gov.my
For media-related matters, contact the Corporate Communications team:
Anis, Manager, +6012 321 9137, anis@itc.gov.my
Nadhirah, Sr. Executive, +6019 356 0530, nadhirah@itc.gov.my
Ainaa Izzati, Asst. Executive, +6010 266 2535, ainaa@itc.gov.my
Follow ITC on these social platforms:
Facebook: Islamic Tourism Centre
Twitter: @itc_my
Instagram: @itc_my
Youtube: Islamic Tourism Centre