November 10, 2023
ITC DRIVES GLOBAL OPPORTUNITIES IN ISLAMIC TOURISM INDUSTRY IN THE UK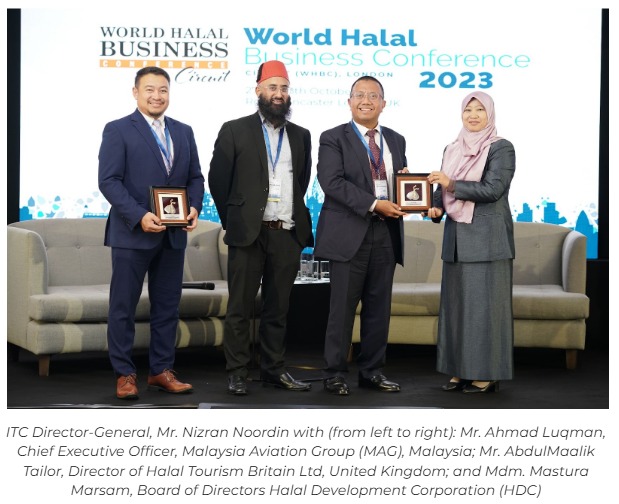 LONDON, UNITED KINGDOM, 28 OCTOBER 2023: Islamic Tourism Centre (ITC) enhanced its strategic relations with global Islamic Tourism and Halal industry practitioners at the inaugural World Halal Business Conference Circuit (WHBC) 2023 on 27-28 October 2023, at the Royal Lancaster, London, United Kingdom.
The 2-day conference was organised by the Halal Development Corporation (HDC) and hosted by the Ministry of Investment, Trade, and Industry (MITI). The conference fostered an environment for information exchange, networking, and strategic collaborations that showcased evolving trends, opportunities, and critical challenges in the halal industry, including tourism and hospitality. ITC's delegation was led by ITC Director-General, Mr. Nizran Noordin, and Director of Industry Development, Ms. Marina Muhamad.
During the conference, ITC was invited to speak on the topic, Emerging Trends Catering to the Demands of Muslim Travellers. This productive session was led by Mr AbdulMaalik Tailor, Director from Halal Tourism Britain Ltd, UK, with Mr. Ahmad Luqman, Chief Executive Officer, Malaysia Aviation Group (MAG), Malaysia, as one of the speakers alongside ITC Director-General, Mr Nizran Noordin.
Here are some key takeaways from Mr. Nizran during the session:
On Malaysia's experience and journey as an Islamic tourism destination and its Muslim-friendly tourism and hospitality branding:
Being ranked at the top of the Mastercard-CrescentRating Global Muslim Travel Index (GMTI) for the eighth time in a row since 2015, Malaysia stands poised to be the ultimate destination for the Muslim travel market.
Recently, Malaysia explored new opportunities in the Chinese Muslim tourist market by collaborating with the Malaysian Inbound China Association (MICA). ITC offered MICA a training programme to elevate their understanding of the Muslim tourist market so they could tap into the opportunities in China, where the population of Muslims is estimated to stand at 30 million.
MICA members were encouraged to inject elements of Muslim-Friendly Tourism and Hospitality into their existing tourism packages.
On the potential growth opportunities in the Halal tourism market:
ITC observed that there is an emerging trend in travel focused on socially responsible travel and social impact activities.
Mr. Nizran said: "The pandemic has further impacted the tourists' travel behaviours and decision-making process. They are poised to spend more on experiences, especially local experiences. For Muslim tourists, this could mean reconnecting with Muslim-friendly culture and heritage experiences and learning about local community lifestyles during their travels."
On ITC's role in supporting Malaysia's tourism economy and maintaining Malaysia as a preferred Muslim-friendly destination:
Mr. Nizran shared that ITC was looking at balancing the supply and demand for Muslim-Friendly Tourism and Hospitality (MFTH) through onboarding more Malaysian tourism industry players onto the Muslim-Friendly Tourism and Hospitality Assurance and Recognition (MFAR) and Muslim-Friendly Tourist Guide (MFTG) programmes while preparing the Malaysia tourism industry players for Visit Malaysia 2026. ITC also encouraged tourism industry players to explore new tourism products and packages that can be developed for the Muslim tourist market.
On ITC's plans to expand its presence in both national and global markets:
Mr. Nizran expressed his desire to provide more awareness training programmes to industry players, equipping them with the relevant knowledge and skills, and helping destinations develop the tourism ecosystem that would support this niche tourism market. He also wished to expand the MFAR branding to international destinations that were keen to attract the Muslim tourism market.
In recent years, ITC has been making efforts to enable more businesses across all sectors to participate in the Muslim-friendly space. Subsequently, the MFAR guidelines were crafted to make it easier to be adopted by more industry practitioners and businesses that were eyeing the Muslim tourist market.
Mr. Nizran added: "Through the MFAR programme, we are assisting hotels and other tourism product owners in positioning themselves as a preferred choice for Muslim travellers from all over the world. In addition, they have started leveraging this recognition to bolster their marketing strategy and tap into the Muslim tourist market. I think this is a good sign for the industry, indicating their awareness of the potential in this niche market."
"ITC takes this opportunity to urge more industry players to improve their tourism products and services to appeal to the Muslim tourist market, a growing and influential tourist market that we all need to pay attention to. ITC is happy to assist you every step of the way to get your destination, tourism product or service recognised as Muslim-friendly. This will increase the confidence of Muslim tourists towards your brand, product, or service. With ITC's MFAR programme, you will be able to brand yourself to the market in a strong way," he added.
By means of this conference, ITC has not only introduced the MFAR branding as a visual recognition for tourism products and services catered to Muslim tourists, but it has also established advanced tourism partnerships with international industry players, particularly those from the United Kingdom, with the aim of promoting Malaysia as an alluring destination that is welcoming to Muslims travellers from the UK.
END
About Islamic Tourism Centre
Islamic Tourism Centre (ITC) is an entity under the Ministry of Tourism, Arts and Culture, Malaysia, tasked to develop the Islamic Tourism segment for Malaysia. It advocates for Muslim-friendly tourism (MFT) by offering research and market intelligence, training, industry development consultation, Muslim-Friendly Tourism and Hospitality (MFTH) services standards and recognition, and information exchange.
Malaysia was named the top country in the region in the MFTH sector by the State of the Global Islamic Economy (SGIE) Report 2022. The country also retained the top-ranked destination in the Mastercard-CrescentRating Global Muslim Travel Index (GMTI) 2023, a position it has defended since the launch of the Index in 2015. In the same year, Malaysia was recognised as the Top Muslim-Friendly Destination of the Year (OIC) and the Top Muslim Women-Friendly Destination of the Year in Halal in Travel Awards 2023.
In addition, ITC was named the recipient of the Strategic Business Alliance Award at The BrandLaureate World Halal Best Brand E-Branding Awards 2021. It is a recognition of ITC's efforts and endeavours in formulating new strategies to meet the new normal of the business environment to ensure business continuity and sustainability, notwithstanding its role in developing and growing the Islamic tourism segment in Malaysia.
These recognitions are an added motivation for ITC to continue to strengthen its efforts in being a prime mover and leading institution to ensure Malaysia is at the forefront of MFTH.
For further details, kindly contact:
Islamic Tourism Centre,
Level 13, Ministry of Tourism, Arts and Culture Malaysia
No. 2 Tower 1, Jalan P5/6,
Precinct 5, 62200 Putrajaya, Malaysia
Tel: 03-8891 7177 or via email itc@itc.gov.my
Follow ITC on these social platforms:
Facebook: Islamic Tourism Centre
X: @itc_my
Instagram: @itc_my
YouTube: Islamic Tourism Centre