July 27, 2022
ITC AND SESRIC JOIN FORCES TO PROMOTE STRONGER ISLAMIC TOURISM ECOSYSTEM
PUTRAJAYA, MALAYSIA, 22 JULY 2022: An online course on "Strengthening Institutional Capacities in the Field of Halal Tourism Industry to Improve the Competitiveness of Tourism Destinations" was jointly organised by Statistical, Economic and Social Research and Training Centre for Islamic Countries (SESRIC), Organization of Islamic Cooperation (OIC) and Islamic Tourism Centre (ITC), Ministry of Tourism, Arts and Culture Malaysia, from 19 to 21 July 2022. 
A total of 50 participants from 19 countries participated in the programme, including tourism ministries, tourism boards, and academic institutions from Afghanistan, Azerbaijan, Bangladesh, Burkina Faso, Guinea, Guyana, Iraq, Jordan, Kuwait, Malaysia, Mali, Mauritania, Mozambique, Nigeria, Senegal, Somalia, Sudan, Tunisia, and Turkey.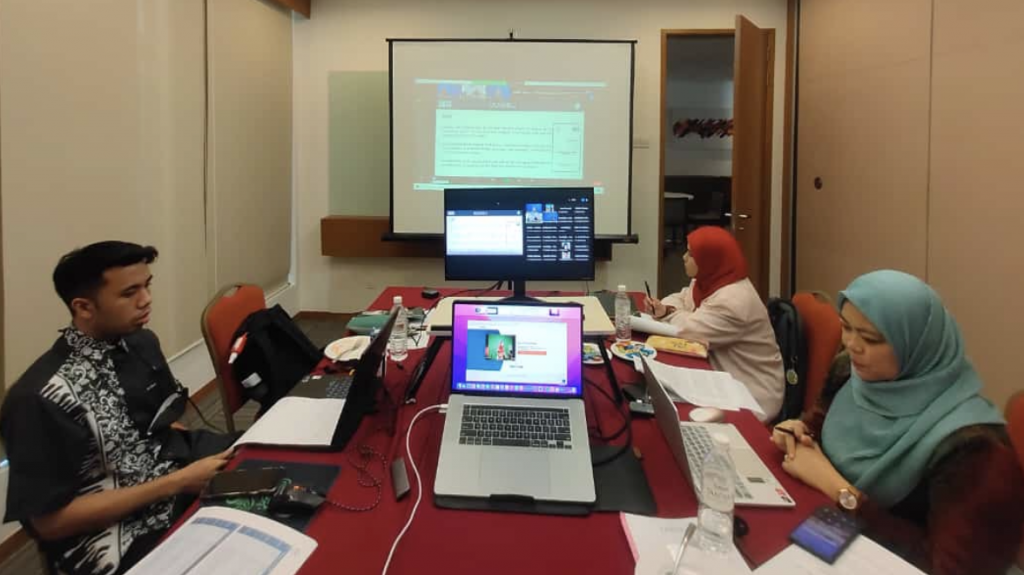 Dato' Dr. Mohmed Razip Hasan, Director-General, ITC expressed his appreciation to SESRIC and OIC for giving ITC the honour of co-organising the 3-day course. ITC and SESRIC have collaborated numerous times in the past, conducting face-to-face and online training for various member countries. 
"As an agency that champions Islamic tourism and Muslim-Friendly Tourism and Hospitality (MFTH), ITC always welcomes the opportunity to promote Muslim-Friendly practices to the rest of the world, especially countries that have shown interest in this segment. With unique nature attractions ranging from rare wildlife and fascinating culture and heritage, to beautiful beaches and landscapes, OIC Countries are undoubtedly a wonderful destination that Muslim tourists would need to visit and explore soon," he said.
The course examined how a destination could amplify its competitiveness as an Islamic Tourism destination through knowledge, skills, systems and institutions. Among the topics covered during the course were Islamic Tourism trends and potential, the role of governments to increase competitiveness, and the functions of a national tourism board within the context of Islamic Tourism. Malaysia's journey as a Muslim-Friendly tourism destination was also shared as a case study.
Dato' Dr. Mohmed Razip shared: "For ITC, institutional capacity is critical towards the creation of  an enabling environment for the growth of Islamic Tourism. It is about establishing the right ecosystem and the right conditions within the destination to support Islamic Tourism development."
He added that it required the buy-in from the government and its various ministries, the private sector, the national tourism boards, and other institutions and agencies such as local authorities, policy-makers, research facilities, higher level institutions, industry associations and more. 
"A destination's institutional strength and competitiveness in Islamic Tourism development requires enabling factors such as government and industry support, talent training, standards and quality development, strategic collaborations and affiliations, management and operations systems, and more. It is a whole-nation effort, and not a single institution initiative," he said.
About SESRIC:
The Statistical, Economic and Social Research and Training Centre for Islamic Countries (SESRIC), was founded as a subsidiary organ of the Organisation of Islamic Cooperation (OIC).
The main original mandate, which has been drawn up for SESRIC in 1978, is threefold:
To collate, process and disseminate socio-economic statistics and information on and for the utilisation of the member countries,

To study and evaluate the economic and social developments in the member countries to help generate proposals that will initiate and enhance co-operation among them, and

To organise training programmes in selected fields geared to the needs of the member countries as well as to the general objectives of the Organisation of Islamic Cooperation.
Over the last four decades, SESRIC has introduced various measures and modalities and launched new approaches and programmes to strengthen its role in contributing to the efforts of the OIC and its member countries to address the challenges facing them in their development efforts. The Centre is now considered as one of the important subsidiary organs of OIC in charge of promoting socio-economic development in the context of advancing intra-OIC cooperation in the relevant areas of its mandate, namely statistics, economic and social research and training and technical cooperation.
—– END —–
Islamic Tourism Centre (ITC) is an entity under the Ministry of Tourism, Arts and Culture, Malaysia tasked to develop the Islamic tourism segment for Malaysia. It advocates for Muslim-friendly tourism (MFT) by offering research and market intelligence, training, industry development consultation, Muslim-friendly tourism and hospitality (MFTH) service standards and certification, and information exchange.
In 2021, ITC received two key awards, i.e. Strategic Business Alliance Award at The BrandLaureate World Halal Best Brand E-Branding Awards 2021, and Best Islamic Tourism Leadership Gold Award 2021 by Malaysia Tourism Council. These are recognition of ITC's efforts and endeavours in formulating new strategies to meet the new normal of the business environment to ensure business continuity and sustainability, notwithstanding its role to develop and grow the Islamic tourism segment in Malaysia.
In addition, Malaysia was recently named top country in the world in the MFT sector by the State of the Global Islamic Economy (SGIE) Report 2022 by DinarStandard in partnership with Salaam Standard and supported by Dubai Department of Economy and Tourism.
Malaysia also retained the top-ranked destination in the MasterCard-CrescentRating Global Muslim Travel Index (GMTI) 2022, a position it has defended since the launch of the Index in 2015.
These recognitions are an added motivation for ITC to continue to strengthen its efforts in being a prime mover and leading institution to ensure Malaysia is at the forefront of MFTH.
For further details, kindly contact:
Islamic Tourism Centre (Ministry of Tourism, Arts and Culture Malaysia)
Level 13, No. 2 Tower 1, Jalan P5/6,
Precinct 5, 62200 Putrajaya, Malaysia
Tel: 03-8891 7177 or via email itc@itc.gov.my
For media-related matters, contact the Corporate Communications team:
Anis, Manager, +6012 321 9137, anis@itc.gov.my
Nadhirah, Sr. Executive, +6019 356 0530, nadhirah@itc.gov.my
Ainaa Izzati, Asst. Executive, +6010 266 2535, ainaa@itc.gov.my
Follow ITC on these social platforms:
Facebook: Islamic Tourism Centre
Twitter: @itc_my
Instagram: @itc_my
Youtube: Islamic Tourism Centre