November 16, 2023
ITC ADDS NEW RECRUITS TO MUSLIM-FRIENDLY TOURIST GUIDE (MFTG)
KUALA LUMPUR, 10 NOVEMBER 2023: Islamic Tourism Centre (ITC) stepped up efforts to strengthen the competency of tourist guides by grooming them through the Muslim-Friendly Tourist Guide (MFTG) Training Course held at the Premiera Hotel, Kuala Lumpur. A total of 34 tourist guides licensed by the Ministry of Tourism, Arts and Culture Malaysia (MOTAC) signed up for the three-day training from 7-9 November 2023.
ITC has spearheaded many Islamic tourism development initiatives since its establishment in 2009, and the MFTG training course is one of ITC's signature programmes.
Mr. Nizran Noordin, Director-General, ITC, said: "ITC recognises that the Muslim tourist market is growing and that these Muslim tourists have specific travel needs when it comes to food, social interactions, and faith demands during their travels. Our tourist guides, regardless of their race or religion, must understand these needs in order to provide the best service and make them feel most welcomed in Malaysia."
"ITC is taking steps to meet the needs of the Muslim tourist market through upskilling programmes such as MFTG. These efforts ensure that Malaysia continues to deliver top-notch Muslim-Friendly Tourism and Hospitality (MFTH) products and services to its Muslim guests and retain its position as a preferred Muslim-Friendly tourist destination," he added.
Ms. Nur Alyssa Coraline Yussin, Director of Research and Training at ITC, said that the MFTG training programme was open to any MOTAC-registered tourist guide who wanted to add value to their guiding service and tap into the Muslim market potential.
"It's like learning a foreign language. The more languages they know, the higher their value is as a tourist guide. It opens up new market opportunities for them; in this case, the MFTG training course will empower them to cater to the unique needs of the Muslim tourist market and enhance their ability to provide better services to Muslim tourists. Muslim tourists on the other hand, will feel they are in the safe hands of the MFTG," she said.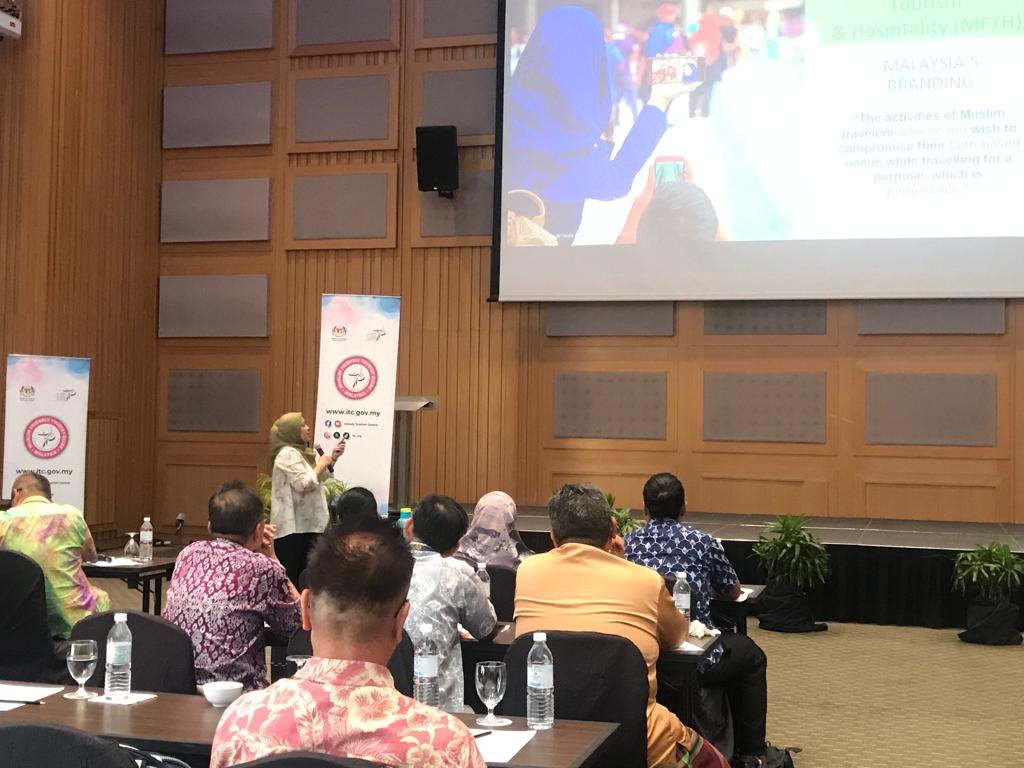 ITC Director of Research and Training, Ms. Nur Alyssa Coraline Yussin conducted the "Muslim-Friendly Malaysia: Initiatives Towards Sustainability" session
This 8th edition of MFTG included an introduction to Islamic tourism and the Muslim tourist market, as well as the necessary skills needed, including communication skills, itinerary development, and site visits to experience the MFTH products and services in Malaysia.
Topics covered were:
Muslim-Friendly Malaysia: Initiatives Towards Sustainability
ITC has been a premier advocate and prime mover in promoting the country as a hub of Islamic tourism and MFTH, and sustainability is a key focus.
Effective Communications in Muslim-Friendly Tourism and Hospitality (MFTH)
Communications is a fundamental skill required in all tourist guides. The right words, tone of voice, language, and even non-verbal communications portray a positive character and give the right impression to tourists as they explore Muslim-Friendly Malaysia with well-trained tourist guides.
MFTH Products and Destinations: Site Visit to Masjid Wilayah Persekutuan, Kuala Lumpur
The participants got to experience a guided, behind-the-scenes tour of this beautiful mosque. Mosque Visit Guides (MosVi) trained by ITC provided insights into the cultural significance and historical context of this place of worship.
To be certified as an MFTG, and receive the lapel pin, the participants need to sit for an assessment to evaluate their understanding. Upon successful completion of the evaluation, the number of MFTGs around Malaysia will climb to 165.
END
About Islamic Tourism Centre
Islamic Tourism Centre (ITC) is an entity under the Ministry of Tourism, Arts and Culture, Malaysia, tasked to develop the Islamic Tourism segment for Malaysia. It advocates for Muslim-friendly tourism (MFT) by offering research and market intelligence, training, industry development consultation, Muslim-Friendly Tourism and Hospitality (MFTH) services standards and recognition, and information exchange.
Malaysia was named the top country in the region in the MFTH sector by the State of the Global Islamic Economy (SGIE) Report 2022. The country also retained the top-ranked destination in the Mastercard-CrescentRating Global Muslim Travel Index (GMTI) 2023, a position it has defended since the launch of the Index in 2015. In the same year, Malaysia was recognised as the Top Muslim-Friendly Destination of the Year (OIC) and the Top Muslim Women-Friendly Destination of the Year in Halal in Travel Awards 2023.
In addition, ITC was named the recipient of the Strategic Business Alliance Award at The BrandLaureate World Halal Best Brand E-Branding Awards 2021. It is a recognition of ITC's efforts and endeavours in formulating new strategies to meet the new normal of the business environment to ensure business continuity and sustainability, notwithstanding its role in developing and growing the Islamic tourism segment in Malaysia.
These recognitions are an added motivation for ITC to continue to strengthen its efforts in being a prime mover and leading institution to ensure Malaysia is at the forefront of MFTH.
For further details, kindly contact:
Islamic Tourism Centre,
Level 13, Ministry of Tourism, Arts and Culture Malaysia
No. 2 Tower 1, Jalan P5/6,
Precinct 5, 62200 Putrajaya, Malaysia
Tel: 03-8891 7177 or via email comms@itc.gov.my
Follow ITC on these social platforms:
Facebook: Islamic Tourism Centre
Instagram: @itc_my
LinkedIn: Islamic Tourism Centre
TikTok: @itc_my