May 5, 2023
ISLAMIC TOURISM CENTRE SHOWCASES MALAYSIA'S MUSLIM-FRIENDLY TOURISM OFFERINGS AT ATM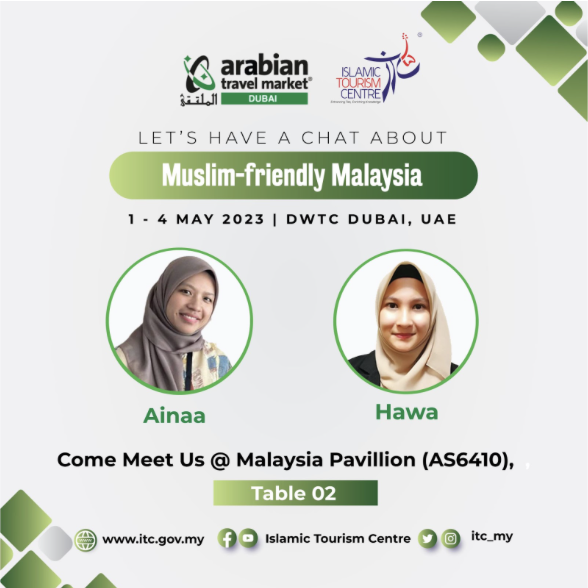 ITC LOOKS TO STRENGTHEN THE MFTH BRAND ON A GLOBAL SCALE
PUTRAJAYA, MALAYSIA, 28 APRIL 2023: Leveraging the huge and growing interest among the tourism industry trade players in the Muslim tourist market, Islamic Tourism Centre (ITC) is taking part in the Arabian Travel Market (ATM) to share Malaysia's unique and appealing Muslim-Friendly Tourism and Hospitality (MFTH) offerings. It is one of the 64 exhibitors participating in ATM at the Malaysia Pavilion in Hall 6 of the Dubai World Trade Centre.
"Now that travel has resumed, we know that the Muslim tourist market is eager to explore new experiences again, and we are participating in Arabian Travel Market to support tourism industry trade players to showcase what Malaysia has to offer to their Muslim clientele," said Nur Alyssa Coraline Yussin, Acting Director-General of ITC.
She added: "A travel experience to Malaysia is one where the Muslim tourist has plenty of delicious Halal food choices available to them, beautiful mosque architecture to explore, culture, heritage and nature attractions, and warm hospitality of the multicultural population. And they can experience all this within a safe environment where their faith-based needs are taken care of."
Since its establishment in 2009, ITC has been working closely with tourism industry players in Malaysia to develop the industry with new tourism products catered to Muslim tourists, standards development, certification programmes, training and upskilling programmes, and market intelligence. As of December 2022, ITC has certified 131 Muslim-Friendly tourist guides and 52 Muslim-friendly hotels. It has also trained mosque guides to better cater to tourists interested in visiting mosques, which has helped to strengthen Malaysia's Mosque Tourism offerings.
These efforts have paid off. Malaysia has been the top Muslim destination in recent years and was named Top Muslim-Friendly Destination of the Year at the Halal in Travel Awards 2022 by MasterCard-CrescentRating.
Nur Alyssa said that ITC is also keen to share its MFTH experience and services to help global destinations and tourism industry players expand their Muslim-Friendly Tourism and Hospitality position. 
"ATM offers the perfect networking opportunity for us to highlight our key programmes such as the Muslim-Friendly Tourist Guide (MFTG) training, our body of research and knowledge to elevate the Islamic Tourism industry, and the rebranding of the Muslim-Friendly Tourism and Hospitality Recognition (MFAR) programme which now has been expanded to include certification in ten different tourism sectors, namely tourist accommodations, spa and wellness, medical facilities, travel agencies, transportation hubs, shopping malls, amusement parks, rest service areas, tourism products and convention and trade centres," said Nur Alyssa.
It is forecasted that in 2028 the number of global Muslim tourist arrivals will reach 230 million with a total expenditure of USD225 billion.
"With this rapid growth of the Muslim tourist market, many are looking forward to exploring the potential of Islamic Tourism, and we are here to support them on that journey. The key to tapping into this market is to build market confidence by delivering tourism products and services that meet their faith benchmark," Nur Alyssa said.
In conjunction with ATM this year, ITC has strengthened its visibility by collaborating with trade publication TTG Asia to share how the industry can tap into the Muslim tourist market. ITC has also published new and updated information leaflets to attract buy-in from new stakeholders, namely the Six Essential Elements of MFTH and MFTH Solutions.
ITC's participation in ATM is under the Malaysia Pavilion, led by Tourism Malaysia, together with other Malaysian delegates such as hoteliers, travel agencies, health and wellness operators and many others.
"We are pleased to be invited by Tourism Malaysia to be part of the delegation to ATM this year. The Malaysia Pavilion is a strong show of the choice and diversity that Malaysia has to offer to tourists of all nationalities and faiths from anywhere in the world. We look forward to partnering with industry trade players to welcome tourists to our shores again," Nur Alyssa said.
ATM, among the leading travel trade industry events globally, is held at the Dubai World Trade Centre, Dubai, United Arab Emirates from 1 to 4 May 2023. The exhibition is expected to host over 2,000 exhibitors from over 100 countries that promote the latest travel trends and innovations.
Visit the ITC booth at Malaysia Pavillion (Hall 6, AS6410, Table 2) or contact our representatives, Ainaa Izzati (+6010 266 2535 / ainaa@itc.gov.my) or Siti Hawa (+6014 9177 371 / hawa@itc.gov.my) to tap into the Muslim tourist market with ITC.
END
Islamic Tourism Centre (ITC) is a Company Limited By Guarantee (CLBG) under the Ministry of Tourism, Arts and Culture, Malaysia tasked to develop the Islamic tourism segment for Malaysia. It advocates for Muslim-friendly tourism (MFT) by offering research and market intelligence, training, industry development and consultation, Muslim-friendly tourism and hospitality (MFTH) service standards and certification, and information exchange.
In 2021, ITC received two key awards, i.e. Strategic Business Alliance Award at The BrandLaureate World Halal Best Brand E-Branding Awards 2021, and Best Islamic Tourism Leadership Gold Award 2021 by Malaysia Tourism Council. These are recognition of ITC's efforts and endeavours in formulating new strategies to meet the new normal of the business environment to ensure business continuity and sustainability, notwithstanding its role to develop and grow the Islamic tourism segment in Malaysia.
In 2022, Malaysia was again named the top country in the world in the MFT sector by the State of the Global Islamic Economy (SGIE) Report 2022 by DinarStandard in partnership with Salaam Standard and supported by the Dubai Department of Economy and Tourism.
Malaysia also retained the top-ranked destination in the MasterCard-CrescentRating Global Muslim Travel Index (GMTI) 2022, a position it has defended since the launch of the Index in 2015.
These recognitions are an added motivation for ITC to continue to strengthen its efforts in being a prime mover and leading institution to ensure Malaysia is at the forefront of MFTH.
For further details, kindly contact:
Islamic Tourism Centre
(Ministry of Tourism, Arts and Culture Malaysia)
Level 13, No. 2 Tower 1, Jalan P5/6,
Precinct 5, 62200 Putrajaya, Malaysia
Tel: 03-8891 7177 or via email itc@itc.gov.my
For media-related matters, contact the Corporate Communications team:
Anis, Manager, +6012 321 9137, anis@itc.gov.my
Nadhirah, Sr. Executive, +6019 356 0530, nadhirah@itc.gov.my
Ainaa Izzati, Asst. Executive, +6010 266 2535, ainaa@itc.gov.my